February 14 is celebrated annually as Saint Valentine's Day around the world. The day is originated from a Western tradition, but now it is celebrated across the globe.
Western Christian started it as a feast day to honor the early Christian martyrs, Saint Valentine. Later it became a significant day to celebrate love and romance in many countries of the world. It signifies the religious, cultural and commercial celebration of love and romance.
Saint Valentine's Day or simply Valentine's Day is a festival of love, caring and affection. It is celebrated annually on February 14. People celebrate it by giving presents, cards, greetings, flowers, etc to their spouse or partners.
Roses, hearts, and Cupid become common symbols of Valentine's Day.
By the way, Valentine's Day is not a public holiday in many countries.
Interesting thing is that there is no clarity about the origin of Valentine's Day. Still, it is celebrated on a large scale around the world.
There are many legends and stories associated with Valentine's Day. Here are some interesting facts and stories about them.
How did Valentine's Day start?
There were many Saints whose name was Valentine. And they are honored on February 14. However, they were not associated with love.
The first time it is established by Pope Gelasius I in 496 AD as the feast of Saint Valentine of Rome. It was celebrated on February 14 in honor of Saint Valentine of Rome. Saint Valentine died on February 14, 269 AD.
However, there are many other stories associated with Saint Valentine and the origin of Valentine's Day.
It became a symbol of love and romance in the 14th and 15th centuries. This was the time of courtly love. In this period, the tradition of Valentine's Day is started.
Around the 18th century, couples started expressing their love by presenting gifts, flowers, and sending greeting cards.
In 19th-century people started sending handwritten greeting cards.
Valentine's Day is celebrated in many countries. In some countries, people celebrate it on different dates and call it by different names. For example, in China, it is celebrated on the 7th day of the 7th month and they call it a Lovers' Festival.
Some countries and some people criticize Valentine's Day. They consider it as cultural contamination. Some people protest against Valentine's Day on February 14.
Though there are some people are against Valentine's Day and they criticize it, most part of the world celebrates Valentine's Day with love, affection, and excitement.
You might like to know about International Women's Day.
Symbols of Valentine's Day
Around the 18th century, Valentine's Day became a symbol of love and romance. Roses, hearts, and Cupid are becoming common symbols of Valentine's Day. Heart shapes. Pink and red roses and statues of Cupids symbolize the feelings of love and romance.
Valentine's Week
People celebrate Valentine's Day with the utmost love and excitement. With the same love and excitement, people celebrate Valentine's Week. Valentine's Week is the loveliest week of the year for lovers around the world. Some people call it a Love week.
The days of Love week are celebrated as Rose Day, Propose Day, Chocolate Day, Teddy Day, Promise Day, Hug Day, Kiss Day and finally Valentine's Day. This week starts on 7 Feb and ends on 14 Feb.
Below is the list of Valentine's Week.
| | |
| --- | --- |
| Date | Day |
| 7 Feb | Rose Day |
| 8 Feb | Propose Day |
| 9 Feb | Chocolate Day |
| 10 Feb | Teddy Day |
| 11 Feb | Promise Day |
| 12 Feb | Hug Day |
| 13 Feb | Kiss Day |
| 14 Feb | Valentine's Day |
Hey, why don't you check these amazing Happy Birthday Wishes, Quotes, Images here?
How people celebrate Valentine's Day
People around the world appreciate the people they love and adore. Many people choose Valentine's Day to propose or get married. Couples go on a romantic date. People give flowers, chocolates, greeting cards, jewelry, etc to their loved ones.
And it's not limited to couples only. It is time to appreciate family and friends. Everyone can celebrate Valentine's Day with their loved ones. After all, it's a festival of love. The love between romantic partners. The love between parents and children. The love between friends.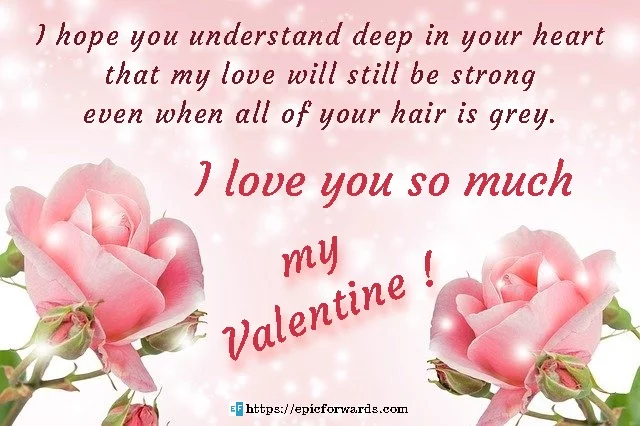 Set time aside and appreciate each other. Give flowers and gifts, and share kind words with each other.
Here are some romantic, passionate and enthusiastic Valentine's Day quotes. Show your love and appreciation to your loved ones and make their day memorable.
Valentine's Day Quotes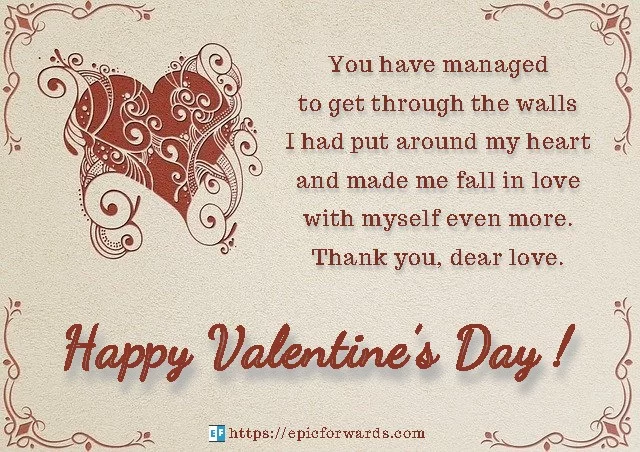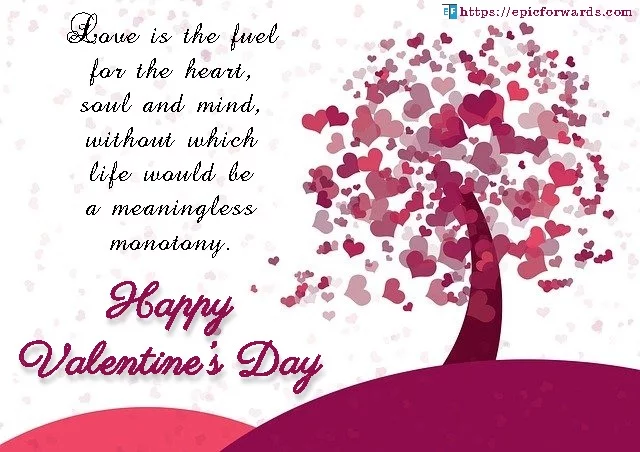 So, which Valentine's Day quote do you like most? Comment your favorite Valentine's Day quote.
Wish you all Happy Valentine's Day.
Like these Valentine's Day Wishes? Then check these Heartwarming Good Morning Quotes, Images.